The Discrimination Prevention Office (DPO) opened in Fall 2014 in response to the Moreno Report.
DPO investigates reports of discrimination or harassment based on race, ancestry, national origin, religion, age, and other categories protected by law and University policy. Typically, we investigate complaints brought by any member of the community (for example, students, staff or faculty) against faculty members. In certain cases, DPO also investigates complaints brought against entities or individuals who are not faculty. For example, under UCLA Policy 240, DPO may investigate reports of discrimination or harassment involving conduct that negatively impacts the campus climate related to equity, diversity and inclusion.
Besides investigating complaints, DPO is charged with developing and clarifying University policies and procedures on discrimination and harassment.
DPO also provides education, training, and guidance to UCLA faculty and members of the campus leadership about discrimination and harassment.
To file a complaint, please complete our Online Complaint Form via the electronic form or the button below.
Submit a Complaint
You may also fill out a hard-copy Complaint Form and return the completed version to the Discrimination Prevention Office at 3148 Murphy Hall (word version) | (PDF version).
For additional information regarding DPO investigations, please review our fact sheet and investigation procedures.
To learn more about discrimination, its effects, and how to prevent it, please visit DPO's resource page, "Learn."
DPO can be reached at:
E-mail: dpo@equity.ucla.edu
Phone: (310) 794-1232
Office:
3148 Murphy Hall
Box 951405
Los Angeles, CA 90095-1405
Team Leads
Dion-Cherie Raymond, J.D.
Co-Director, Discrimination Prevention Office | Investigations Coordinator

Contact: draymond@equity.ucla.edu
Dion Raymond is a lawyer who earned her Bachelor of Arts Degree in English from UCLA and her Juris Doctorate from UC Hastings College of the Law in San Francisco.  Ms. Raymond began her professional career with the Law Offices of Johnnie L. Cochran, Jr. as a litigator and trial attorney in civil rights law, employment, sexual harassment and insurance defense.  In 1990, Ms. Raymond represented the estate of former Councilman Gilbert W. Lindsay, and in her first trial, obtained a favorable jury verdict for $235,000 for undue influence in April 1992. Ms. Raymond's legal experience also includes employment defense, defense of the indigent for the Los Angeles County Public Defender's Office, mental health, and anti-discrimination training. 
Ms. Raymond's choice to enter the legal profession was seeded and inspired by her activism as an undergraduate at UCLA where she simultaneously held the positions of Black Student Alliance (BSA, now ASU) chair and Communications Board chairperson.  That same year, Ms. Raymond was a part of student and community leadership that organized a boycott of classes and a mass student protest calling on the University of California to divest from companies doing business in apartheid South Africa. Drawing as many as 3,000 – 4,000 individuals, the Los Angeles Times reported that UCLA administrators said it was the largest student protest on campus since the Vietnam War. Ms. Raymond later went on to participate in the Los Angeles chapter of the Free South Africa Movement.  In law school, Ms. Raymond was an active member of the Black Law Student's Association (BLSA), taught in the Street Law Program, and was invited to teach in the Street Law Court Program, which was offered to first-time youthful offenders in lieu of a juvenile record. 
Recognizing the University's commitment to equity, diversity and inclusion, Ms. Raymond also supports other campus stakeholders in this mission through activities such as Bruin Day, the Afrikan Graduation, and the Black Staff and Faculty Association.  As an LGBTQ Resource Center Ally, Ms. Raymond has arranged for DPO and EDI-wide ally trainings. Most recently, Ms. Raymond was an invited speaker for the 2016 and 2017 Black Convocations, the 2018 keynote speaker for UCLA's annual MLK Remembrance Day, a 2018 speaker and panelist for the UCLA Career Center's "Careers Beyond the Courtroom" program, a panelist for ASU's "Black by Popular Demand" for parents of newly admitted Black freshman, and a speaker and panelist along with professors Brenda Stevenson and Funmilola Fagbamila for the 2018 African American Studies-History Departments' joint Black History Month Program, "Why Black Women's Lives and Histories Matter." 
Ms. Raymond is an active member of the California State Bar, a member of the Association of Workplace Investigators, the UCLA Black Alumni Association (UBAA), Black Women Lawyers (BWL), and Alpha Kappa Alpha Sorority, Inc. A UCLA legacy, Ms. Raymond comes from a Bruin family which includes her son.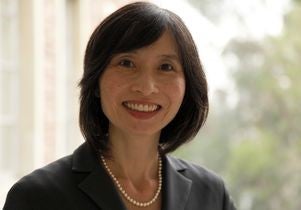 Lillie Hsu, J.D.
Co-Director, Discrimination Prevention Office | Policy and Training Coordinator

Contact: lilliehsu@equity.ucla.edu
Ms. Hsu received her bachelor's degree in Government from Harvard University and her Juris Doctorate with distinction from Stanford Law School, where she focused on race and gender issues and organized the Third National Conference of Women of Color and the Law. After serving as a judicial clerk in federal trial and appellate courts in California, she practiced civil litigation and appellate law for many years at major law firms in Los Angeles. She represented many public entities, including the Regents of the University of California, and handled cases in areas ranging from employment and civil rights to contract, medical malpractice and antitrust, including in the California Supreme Court and the United States Supreme Court. She also taught for four years as a full-time lecturer in the Lawyering Skills Clinical Program at UCLA School of Law, and is happy to return to being a Bruin. Ms. Hsu is an Association of Workplace Investigators member and Certificate Holder, and an active member of the State Bar of California.
Team Members
Maria DeHowitt, J.D.
Investigator

Email: mdehowitt@equity.ucla.edu
Phone: (310) 825-4502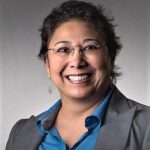 A seasoned investigator, Ms. DeHowitt comes to the Discrimination Prevention Office from the Office of Equal Opportunity and Title IX at the University of Denver, where she investigated complaints of discrimination, harassment, and retaliation against students, staff and faculty. She brings a strong knowledge of policy and procedure development, inclusive excellence praxes, and investigatory best practices. Ms. DeHowitt demonstrates a strong commitment to equity and impartiality, and attributes this to her integrity and dedication to ethical principles.
Ms. DeHowitt began her investigatory career as a Civil Rights Investigator for the Colorado Civil Rights Division (CCRD), investigating employment discrimination cases filed against private employers. As the Regional Office Supervisor, Ms. DeHowitt supervised staff in the overall management of cases, including the assessment of complaints, case analyses, and report writing.  After leaving CCRD, Ms. DeHowitt became an independent investigator and traveled throughout Colorado conducting onsite workplace investigations for private and public employers. Collectively, she has investigated over 400 cases during her career. As a practicing attorney, Ms. DeHowitt added to her professional repertoire by representing injured workers in settlement negotiations and administrative hearings.
Ms. DeHowitt's assortment of cases, both legal and investigative, encompassed a breadth of distinct and nuanced issues related to Title IX of the Education Amendments Act of 1972, Titles VI and VII of the Civil Rights Act of 1964, Section 504 of the Rehabilitation Act of 1973, the Americans With Disabilities Act Amendments of 2008 (ADAAA), and the Age in Employment Discrimination Act of 1967 (ADEA). The volume of diverse, unique, and high-profile investigations provides Ms. DeHowitt with the robust experience that informs her investigations at UCLA.
Ms. DeHowitt is fluent in Spanish and holds certifications as an ATIXA Civil Rights Investigator and a Forensic Experiential Trauma Interviewer. She is a member of the National Association of College and University Attorneys (NACUA), the College and University Professional Association for Human Resources (CUPA-HR), and an active member of the Colorado Bar Association, where she co-presented at the annual Employment Spring Conference on the topic of "How to be More Culturally Competent."
Ms. DeHowitt earned her Bachelor of Arts degree in History from UCLA, and her Juris Doctorate degree from DePaul University College of Law in Chicago, Illinois.  She is admitted to the State Bars of Illinois and Colorado.
Josiah Jenkins, J.D.
Investigator

Email: jjenkins@equity.ucla.edu
Phone: (310) 206-6719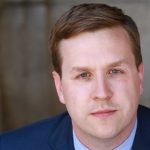 Josiah Jenkins earned his Bachelor of Arts in History from Northwestern University.  Following graduation, Mr. Jenkins worked for Northwestern for two years as an Assistant Director of Undergraduate Admission. In that role, he evaluated applications for undergraduate admission and traveled around the country on behalf of the University.  Mr. Jenkins left the field of higher education to attend law school at the Chicago-Kent College of Law, where he graduated cum laude. Mr. Jenkins placed on the Dean's Honor List throughout his law school career, received 4 CALI awards (given to the student with the highest grade in each class), and competed in tournaments as a member of his school's highly-ranked Moot Court Honor Society.  After graduating from law school, Mr. Jenkins became an Associate Attorney at Goldman & Ehrlich, a boutique employment law firm in Chicago, Illinois. Mr. Jenkins represented plaintiffs in employment discrimination and wage collection actions in state and federal court, as well as before the Federal Sector of the EEOC and state administrative agencies.  While working for Goldman & Ehrlich, Mr. Jenkins secured favorable outcomes for a number of his clients, including a six-figure trial verdict in a wage collection action.
Mr. Jenkins is a member of the American Bar Association and of the Association of Workplace Investigators, an international professional association that seeks to promote and enhance the quality of workplace investigations. Mr. Jenkins is admitted to the bar of the state of Illinois and the federal courts for the Northern and Central Districts of Illinois and the Western District of Michigan.
Mr. Jenkin's experiences in higher education and employment discrimination litigation have reinforced his commitment to ensuring an equitable and inclusive University environment, with effective, fair, and unbiased investigations.
When he is not at work, Mr. Jenkins pursues a number of creative endeavors. In 2013, Mr. Jenkins contributed a piece to the Life of the Law podcast, which was broadcast nationwide by the American Public Media program The Story.
Asmara G. Carbado, M.A., J.D.
Investigator

Email: acarbado@equity.ucla.edu
Phone: (310) 794-5209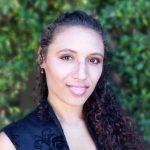 Asmara Carbado earned her Bachelor of Arts in History, Summa Cum Laude, from UCLA.  She then went on to complete her Masters in African American Studies, again at UCLA, prior to attending Harvard Law School, where she earned her Juris Doctorate in 2015.  
At Harvard Law School, Ms. Carbado was the Executive Editor of the Harvard Law Journal on Racial and Ethnic Justice.  She also worked as a student attorney for both the Prison Legal Assistance Program where she represented indigent inmates in their disciplinary hearing, and the Criminal Justice Institute, where she represented criminal defendants in state court.  Additionally, as a research assistant, Ms. Carbado wrote a portion of the expert testimony for the legislative hearings on Stand Your Ground laws that occurred in the aftermath of the fatal shooting of Trayvon Martin, and conducted research for Michael Brown's legal team.
Subsequent to law school, Ms. Carbado worked at the Federal Public Defender's Capital Habeas Unit in Los Angeles where she represented capital and non-capital clients in federal court. In the context of that role, she earned Harvard Law School's Heyman Fellowship for legal work that advances social justice and public interest. Ms. Carbado enthusiastically joined DPO in July, 2018.
Ms. Carbado is an active member of the State Bar of California, and a member of the Association of Workplace Investigators.
Laura Siegel, J.D.
Special Assistant

Email: lsiegel@equity.ucla.edu
Phone: (310) 794-1197
Laura Siegel has been a member of the Discrimination Prevention Office team since 2014.  Working closely with DPO's co-directors, Ms. Siegel's role includes assessing complaints, special investigations, complaint resolution, interpreting and developing University procedures and policies, and procedures relating to discrimination.  Ms. Siegel also handles special projects for the Discrimination Prevention Office, including data collection and reporting, and acting as a liaison with other University offices regarding issues related to discrimination.  
Ms. Siegel received her Juris Doctorate from UCLA School of Law with a specialization in Public Interest Law and Policy.  Prior to law school, Ms. Siegel's professional background included work in higher education where she taught, conducted, presented, and published research in the field of theoretical linguistics. During law school, Ms. Siegel interned at Inner City Law Center, the Federal Public Defender Capital Habeas Unit, and was a judicial extern to the Honorable Harry Pregerson.  Ms. Siegel also participated in the UCLA School of Law/Federal Public Defender criminal defense clinic, the UCLA/A New Way of Life reentry expungement clinic, and parole projects with UnCommon Law. 
Ms. Siegel is a member of the Association of Workplace Investigators.
Nicole Lewis, J.D.
Administrative Analyst

Email: nlewis@equity.ucla.edu
Phone: (310) 794-1232
A Louisiana native, Nicole Lewis graduated from Middle Tennessee State University with a Bachelor of Science degree in Music Business and received her Juris Doctorate from the University of San Diego School of Law with a concentration in Intellectual Property.  Ms. Lewis joined the Discrimination Prevention Office with a wealth of professional litigation and technological support experience.  Having spent several years as a legal administrator for a boutique law firm specializing in business and family law litigation, Ms. Lewis  manages the day-to-day operations for DPO in matters ranging from complaint intake, case management software, databases and communication systems, and serves as a liaison to other campus departments, staff and projects.