UCLA American Indian Studies Interdepartmental Program, UCLA American Indian Studies Research Center
Nya:wëh sgë:nö' (I hope you are well),
I am very honored to serve as the inaugural Special Advisor to the Chancellor on Native American and Indigenous Affairs at UCLA. California Indians who have made the Los Angeles Basin (Tovaangar) their home since time immemorial are an important part of UCLA's large and diverse community. Many others have come to call LA home and UCLA as an important part of their lives. Los Angeles has the largest population of Native American, Indigenous and Pacific Islander peoples in the country – our rich histories and cultures converge in this place, reminding us that we have so much to learn from each other. UCLA is truly happy to be a part of fostering an understanding of Indigenous issues and being here to serve the larger public.
This last year in the position has led to small steps and progress toward larger projects that we hope to accomplish over the next years. One of our main events in the Fall of 2019, the Lighting a Path Forward symposium, brought together Southern California cultural leaders for a tribal listening session. The first day brought us all together to learn about the Tongva perspective of UCLA's founding and to hear from tribes themselves what they wanted to see unfold in the next 150 years of UCLA's path forward. Needs and holes in current Indigenous issues were identified and knowledge to address them was shared across disciplines, generations and communities.
Returning of ancestors is always on the top of everyone's minds. We were very fortunate to have an array of members from the UCOP committee on NAGPRA present at the symposium to discuss this important intervention at the UC level and to listen to concerns and solutions of our attendees. Our NAGPRA coordinators work tirelessly to return the ancestors and are noted for their models of consultation. It is the communities themselves who do much of this hard work and should also be commended for guiding us in their best practices.
Retention and recruitment is also a matter that has long been a concern for Indigenous communities. Increasing our too small numbers of American Indians entering college is necessary. Shortly, the American Indian Culture and Research Journal will release a position paper specific to Southern California that will be made public to all. After the symposium, we have initiated a quarterly meeting with all those involved in student recruitment and retention to support each other across the various campus organizations. We hope this will increase communication, our enrollments, and our students' lives at UCLA!
There have been many issues and participation requests brought to me throughout this time from community, faculty and students. While some have easy resolutions, others are multifaceted and still in progress. We must work together to open many of our campus spaces to American Indian and Indigenous communities, not just to create greater understanding but to ensure academic excellence. In all matters big and small, I am open to hearing concerns from all those on and off campus. I look forward to the Special Advisor playing a role in the next 150 years of working together as all these moments have been of learning and moving forward with best practices at UCLA. Our goal is to make spaces that recognize all our pasts, present and future work together at UCLA.
Nya:weh,
Mishuana Goeman (Tonawanda Band of Seneca)
Selected Special Advisor Projects:
Land Acknowledgement Campaign which includes speaking to various faculty, administrators, staff and Deans; collaboration with the Equity, Diversity and Inclusion group on campus to put in place a plaque containing the land acknowledgement; and creating materials for a Spring-Fall 2020 poster and sticker launch (see downloadable PDF).
Carrying Our Ancestors Home a project comprised of materials and created films from the viewpoint of tribal practitioners working endlessly to help our ancestors come home.
Advising on creating more inclusive spaces across North and South campus and with various Los Angeles organizations and government municipalities. For a small example please see the Chemistry Department's press release.
Collecting Data and information on creating a Living and Learning Community on the Hill for our undergraduate students.
Working on in-state tuition for all American Indians and elimination of non-residential fees for our graduate students.
Supporting recruitment of American Indian and Indigenous faculty.
2021 Gathering of Tribal Leaders
UCLA Special Advisor to the Chancellor on Native American and Indigenous Affairs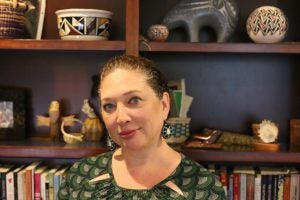 Dr. Mishuana Goeman, Tonawanda Band of Seneca, is an Associate Professor of Gender Studies, Chair of American Indian Studies Interdepartmental Program, Associate Director of American Indian Studies Research Center, and the Special Advisor to the Chancellor on Native American and Indigenous Affairs at UCLA. She is the author of Mark My Words: Native Women Mapping Our Nations (University of Minnesota Press, 2013) and the forthcoming Settler Aesthetics and the Spectacle of Originary Moments: Terrence Malick's The New World (University of Nebraska Press). She is a Co-PI on two community based digital projects, Mapping Indigenous L.A (2015), which gathers alternative maps of resiliency from Indigenous LA communities, and Carrying Our Ancestors Home (2019), a site concentrating on better working tribal relationships and communications as it concerns repatriation and NAGPRA. Book chapters are included in Theorizing Native Studies (Duke University Press, 2014), Sources and Methods in Indigenous Studies (Routledge 2016), Macmillan Interdisciplinary Handbooks: Gender: Sources, Perspectives, and Methodologies (2016), Critically Sovereign: Indigenous Gender, Sexuality, and Feminist Studies (Duke University Press, 2017) and a forthcoming chapter in Biopolitics – Geopolitics – Life: Settler-colonialism and Indigenous Presences (Duke University Press). She also publishes widely in peer-reviewed journals, including guest edited volumes on Native Feminisms and Indigenous Performances.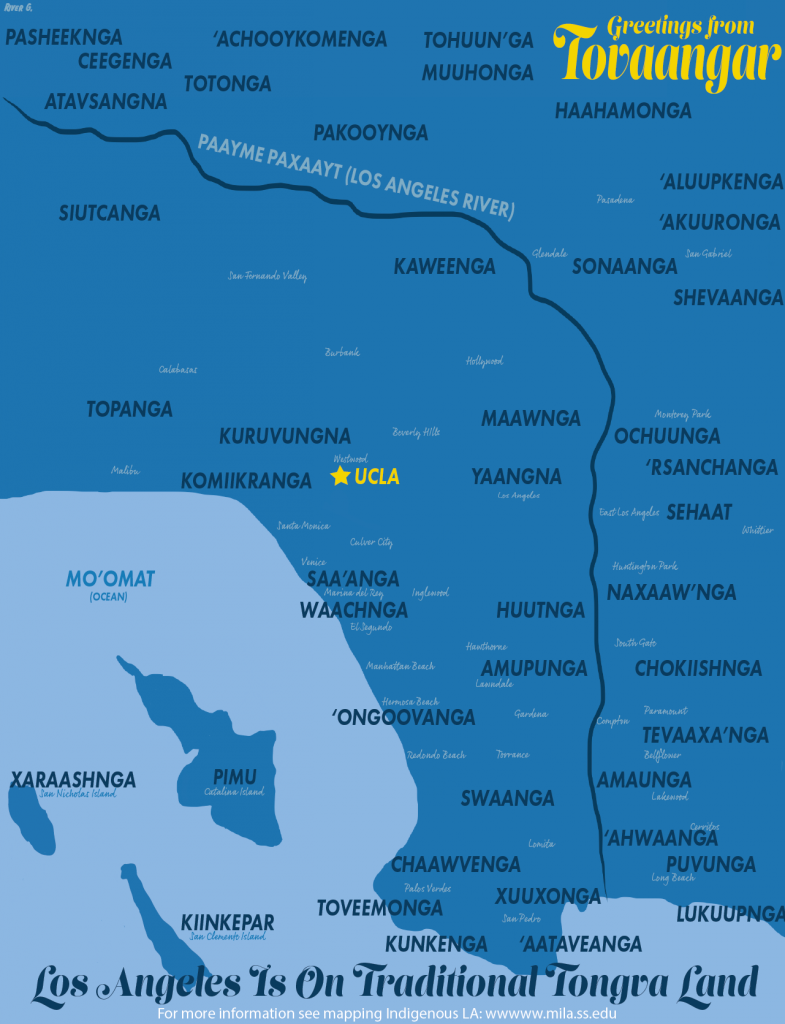 ➡ new & highlighted content:
We will update this page as new content becomes available. If you know of a valuable resource that we've overlooked, please let us know at rklibaner@equity.ucla.edu.
The content on this page is for informational purposes only and does not constitute legal advice.
---
Looking for Advice?
Questions regarding Native American and Indigenous Affairs can be directed to the following UCLA entities: