One complaint we often hear is that people report discrimination, but nothing is ever done about it. One reason for this sentiment is that even when a wrongdoer is sanctioned, almost no one finds out because of confidentiality constraints. This lack of transparency undermines the twin goals of deterring bad behavior and providing some sense of closure for the complainant and the community.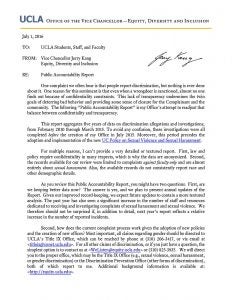 In an attempt to readjust that balance between confidentiality and transparency, EDI is releasing the first edition of our annual "Public Accountability Report," which aggregates five years of data on discrimination allegations and investigations. To view the Report and a foreword from Vice Chancellor Kang, click here.
As always, we value and welcome your feedback.  You can reach us at WeListen@equity.ucla.edu or (310) 825-3935.