Dear UCLA Community,
Thank you for visiting our 2020 Election webpage. The Office of Equity, Diversity and Inclusion (EDI) and campus partners have put together this resource hub featuring all election-related information and UCLA events to help keep you informed. As we navigate a contentious election season, it is important for all of us to reaffirm our shared Bruin values of treating each other with respect and dignity.
Because we know that these uncertain times can be particularly challenging, we have also included a number of wellness resources for students, staff, and faculty.
For all faculty looking for guidance on how to provide accommodations for students who need it related to the election, please consult our partners:
For general guidance on how to address the election in the classroom, please review our recent guidance document: Guide to Supporting Teaching Through the Election and in Difficult Circumstances (PDF).
We will continue to update this page as more resources become available. If you know of a valuable resource that we have overlooked, please let us know at rklibaner@equity.ucla.edu.
In the meantime, know that we are here and that we are listening. Please reach out to us anytime at WeListen@equity.ucla.edu.
last updated 2020 11 04
Election-Related Events @ UCLA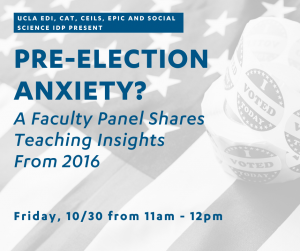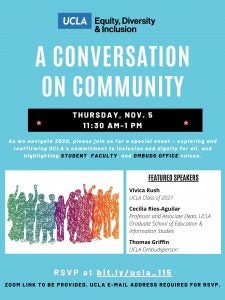 Reflection Spaces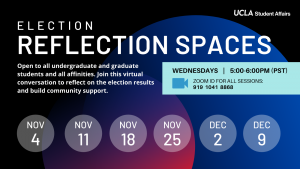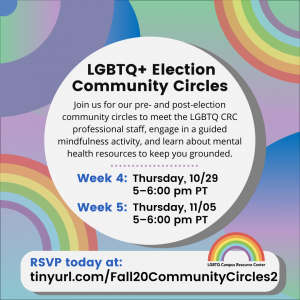 Election Resources
UCLA Newsroom: Election 2020 Resource Page
Please visit the following official UCLA webpage for the latest updates, frequent communications, messages from campus leadership, and transparency about UCLA's resources for our community as well as facts about the election process:
Voting Information
For more details on voting, ballot drop box locations,  safety options, and other questions or concerns surrounding the voting process in UCLA and Los Angeles county, please see the following helpful links:
Wellness and Services
To help connect community members with UCLA wellness resources for staff, students, and faculty – some specific to the election – we invite you to take look at the following options:
Faculty and Teaching Resources
For faculty looking for guidance on inclusive teaching and increased zoom security, we offer the following resources:
Social Justice and Anti-Racism Resources
If you would like to learn more about UCLA's commitment to rise to the challenge in terms of anti-racism, consult resources for dealing with racial trauma, or further educate yourself on any of these concepts, please consult the following:
Freedom of Speech Resources
The following resources provide guidance on campus issues related to free speech, academic freedom, and how to handle hateful expression and classroom disruptions:
Incident Reporting
UCLA is committed to maintaining an equal learning and working environment for all. If you have experienced or witnessed acts of discrimination, we have put together an easy guide to help you find the appropriate office and contact information. Please visit the following page: