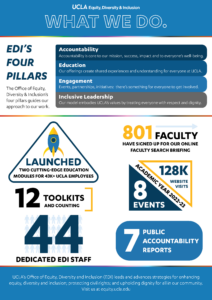 Key Accomplishments
Accountability
➡ Published the 2019-20 Public Accountability Report 6.0.
➡ Published the 2020-21 Affirmative Action Plans.
➡ EDI Data Hub provides data on diversity trends for students, staff and faculty.
➡ Provides EVC/P with annual EDI scorecards by Academic unit.
Bruin Engagement
➡ 5 EDI Signature Topics events providing EDI thought leadership for a national and global audience and meeting the need for the UCLA community to learn, engage and participate in thoughtful discussion surrounding EDI issues.
➡ UCLA Thurgood Marshall Lecture.
➡ EDI@UCLA mapping key EDI initiatives throughout UCLA.
➡ EDI Network – developing connections and strategy across UCLA's EDI efforts.
➡ EDI is developing a Data Hub website for secure, permission-based interface of sensitive information.
➡ EDI Equity Advisor Program enhanced the EDI mission by developing programmatic initiatives to improve the climate within their schools/divisions. Equity advisors also participated in over 100 faculty searches, tracking and providing search committees with best practices to mitigate bias.
➡ EDI Student Advisory Board members served as liaisons, advisors and problem solvers to the Vice Chancellor and the EDI office as a whole, and each member has a proven track record of caring deeply about equity and working to change the communities and institutions around them for the better.
➡ Harmonized civil rights protections under the EDI Civil Rights Office (CRO), which includes the Discrimination Prevention Office, the Staff Diversity & Compliance Office and the Title IX Office.
➡ Created a user-friendly Report an Incident webpage.
➡ Conducted intake on all reported incidents and investigated and issued reports pursuant to procedure.
➡ Strengthened civil rights protections by conducting thorough, mindful, and evaluative assessments of all complaints received.
➡ Formed an active Non-Discrimination Incident Response Team, in partnership with UCLA Health and co-lead by our CRO DPO and SD&C teams.
➡ DPO investigators became certified investigators with AWI and attended NELI disability training (ADA & CA/FMLA).
➡ SD&C provided monthly Preventing Workplace Discrimination and Sexual Harassment training sessions (12 provided in the AY).
➡ Title IX provided training for new and incoming undergraduate and graduate students.
Communications and Outreach
➡ VC-EDI Bruin Post Statements:
➡ 8 EDI Voices issues featuring Bruins who advance the EDI mission.
➡ The EDI website received approximately 260,000 total page views, averaging 800+ daily views – the platform has grown from technological and content perspectives.
➡ EDI worked with more than 30 campus partners.
➡ VC-EDI Quarterly Updates to the UCLA Community:
Education and Training
➡ EDI's Education and Training Hub launched on the EDI website.
➡ EDI-DPO conducted 18 presentations at New Student Orientations, informing first year and transfer students with information about EDI and the Civil Rights Office.
➡ EDI provided Five 1:1 trainings to faculty and other academic personnel who violated the University non-discrimination policy, including 2 department chairs.
➡ EDI provided 10 mandatory training for all faculty members of search committees consistent with the UCLA EDI Faculty Search Process.
➡ EDI-CRO-Title IX provided mandatory training for 10,000+ undergraduates and 6000+ graduate students.
➡ EDI-CRO-Title IX provided education and training tools for UCLA employees.
➡ Launched 7 EDI Toolkits providing research-driven resources, educational tools, and best practices to advance our EDI mission.
Funding Support
➡ Oversees the UC Presidential Post-Doc Fellow Program.
➡ Oversees the Chancellors Post-Doc Fellow Program.
➡ Oversees the Faculty Career Development Award.
➡ Provides financial support for DACA.
➡ Provides financial support for the University Committee on Disability.
➡ Provides financial support for Lavender Graduation.
➡ Provides funding for Human Resources to advertise jobs.
Organizational Health
➡ Hired and onboarded 9 staff members.
➡ Monthly all-team meetings.
➡ 2nd Annual Retreat.
➡ EDI Staff Brown-Bag Series for professional development and team-building.
➡ Professional Development Fund to support staff.
Vice Chancellor Engagement
➡ UCLA representative to the UCOP Non-discrimination policy working group.
➡ Initiated Senate-Administration Joint Task Force on Judiciary and Investigative Processes.
➡ Oversees Moreno Report Implementation.
➡ Oversees University Committee on Disability.
➡ Oversees UCLA LGBTQ Affairs Committee.
➡ Dotted-line supervision over DGSOM Vice Dean for JEDI.
➡ Dotted-line supervision over UCLA Health Chief Diversity Officer.
➡ Co-Chair UCLA Gender Recognition and Lived Name Policy Implementation Efforts.
➡ Developed the American Indian and Pacific Islander x EDI Action Group.
➡ Provides VC-EDI approval for all ladder-ranked faculty hiring.
➡ The Vice Chancellor represented EDI with 33 presentations, speeches, panels, podcasts, town halls and webinars, extending the goal of advancing the mission of EDI and engaging meaningfully with campus partners and the greater community:
11 formal speeches/remarks.
10 presentations.
8 panels/symposiums/workshops.
2 webinars.
1 town hall.
2 podcasts.