One complaint we hear often is that people report discrimination, but nothing is ever done. One reason for this sentiment is that even when a wrongdoer is sanctioned, almost no one finds out about it due to confidentiality concerns. This lack of transparency undermines the twin goals of deterring bad behavior and providing some sense of closure for the complainant and the community.
We are working on multiple projects that aim to better balance the often competing concerns for privacy and transparency. One project – the Public Accountability Report – provides anonymized descriptive statistics about complaints, investigations, and sanctions that have been meted out in the past. We will release an updated Public Accountability Report annually.
As always, we value and welcome your feedback. You can reach us at WeListen@equity.ucla.edu or (310) 825-3935.
(released 2021.05.12)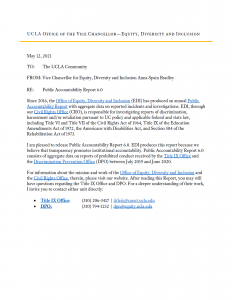 (released 2020.03.05)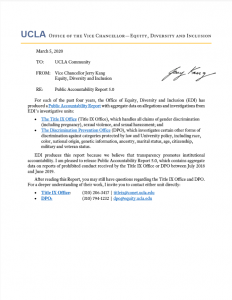 (released 2018.12.11)
 
(released 2017.12.19)

(released 2017.06.01)

(released 2016.06.01)